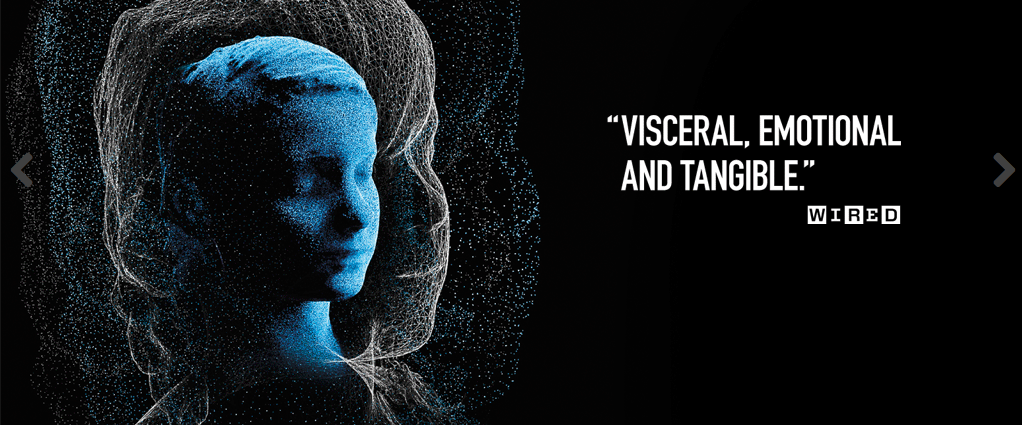 PROJECT CASE STUDY:
Big Data is defined as the real time collection, analyses, and visualization of vast amounts of the information. In the hands of Data Scientists this raw information is fueling a revolution which many people believe may have as big an impact on humanity going forward as the Internet has over the past two decades. Its enable us to sense, measure, and understand aspects of our existence in ways never before possible.
The Human Face of Big Data captures, in glorious photographs and moving essays, an extraordinary revolution sweeping, almost invisibly, through business, academia, government, healthcare, and everyday life. It's already enabling us to provide a healthier life for our children. To provide our seniors with independence while keeping them safe. To help us conserve precious resources like water and energy. To alert us to tiny changes in our health, weeks or years before we develop a life-threatening illness. To peer into our own individual genetic makeup. To create new forms of life. And soon, as many predict, to re-engineer our own species. And we've barely scratched the surface . . .
TRANS MEDIA AND CROWD SOURCING HIGHLIGHTS:
The public was invited to participate in the project by using the Data Collection smartphone app and answering questions about their daily lives. The data was featured in the project's Mission Control event and users were able to find their 'data doppelganger'.
The Data Detectives Initiative invited students to answer questions, explore fascinating examples of how Big Data is changing their world, interact with real-time data and see how other students around the globe are impacted in similar and different ways.
Insights from the Data Detectives Initiative were unveiled at the TEDYouth event in New York, where 400 local high school students gathered for speaker sessions featuring 20 scientists, designers, technologists, explorers, artists, and performers who shared short lessons on what they do best.
Human Face of Big Data iPad App brings to life, through 60-plus pages of stunning interactivity, an extraordinary revolution that's sweeping through business, academia, government, healthcare, and everyday life. The app will transport users into a Big Data ecosystem that is beginning to address some of the biggest challenges facing our species. All proceeds from app downloads will be donated to Charity Water.
'Mission Control' media events took place in London, New York and Singapore to introduce the media to leaders in the Big Data field and give them hands on experience.
PBS will broadcast THE HUMAN FACE OF BIG DATA nationwide on February 24th at 10pm/9c. The film will be broadcast internationally in 25 countries later this year and will also be available online — at any time and on any device — beginning on February 25th via CuriosityStream, the world's first SVOD service for premium factual content.
We are very honored that the film won the Boston Film Festival Award for "Best Cinematography" and that the U.S. State Department has selected the film to be screened at U.S. Consulates and Embassies as part of the major film diplomacy program, AMERICAN FILM SHOWCASE. The film is also part of Ro*Co Films Educational Program is available for screening in schools internationally.
"Big Data represents a powerful transformational force in how we can use digital information to gain new insights into our world. EMC is proud to sponsor The Human Face of Big Data project, and we're equally proud that our technology and expertise are playing a leading role in making the power of Big Data a reality for governments and businesses today. EMC provides foundational components for Big Data strategies across every industry. Our storage, database, security, governance, and analytics products are used around the world to transform businesses, communities, and humankind."
PR STATS:
200 press, analysts and key influencers attended the Mission Control Events on October 2nd
6,000 mentions of the project to date in news coverage, on Twitter and in forums and blogs around the world
2,000 articles on the project globally and counting.
41% of all articles mentioned EMC
Project PR vaulted EMC from 4th to 2nd position in the Big Data space (after IBM)
More than 4,000 media stories generated hundreds of media impressions
More than 60,000 copies of the book are now displayed in the offices, boardrooms and living rooms of key influencers around the globe
10,000 copies of The Human Face of Big Data were delivered simultaneously to world leaders, fortune 500 CEOs and other key influencers via Fed Ex Sponsorship.